Glass Shower Doors
WHY CHOOSE DULLES GLASS?
There's a big difference in a Dulles Glass Shower.
Get Details »
YOUR QUESTIONS: ANSWERED
Are frameless showers safe? Durable? Right for me?
Find Out »
EASY INSTALLATION
No worries. No fuss. Just expert installation by our own pros.
Learn More »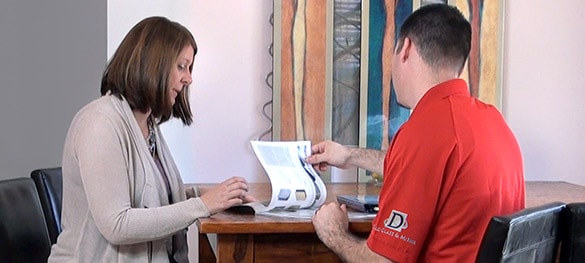 SCHEDULE AN APPOINTMENT
A free consultation from a glass expert at Dulles Glass helps your project get off on the right foot. We'll meet with you at your home to discuss your project - and don't worry - it's totally obligation-free.
GLASS SHOWER HELP & HOW-TO'S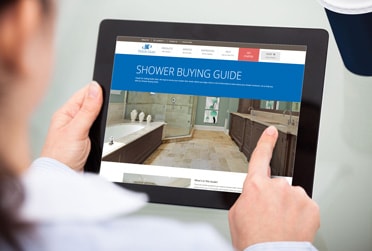 Shower Buying Guide
Creating the bathroom of your dreams is no easy task - but we're here to help! We've put together this simple, step-by-step guide to help you choose the right shower shape, customizations, and accessories. From the thickness of the glass to the colors of your accessories, we've got everything you need right here!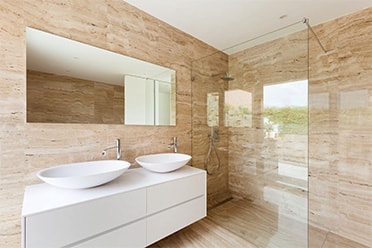 How To Keep Your Glass Shower Doors Clean
Keeping a glass shower enclosure from Dulles Glass clean and clear is very simple. Read here for tips and tricks on keeping your shower door sparkling!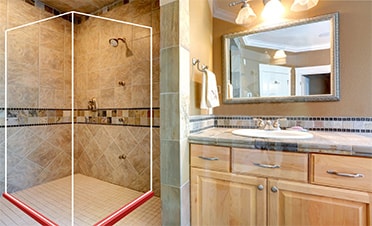 Shower Construction Guide
For the contractor, advanced DIYer or anyone who wants to know exactly how our showers are installed, this guide walks you through a series of tips for making sure your shower installation goes smoothly.
MORE GREAT PRODUCTS FOR YOUR BATHROOM PROJECT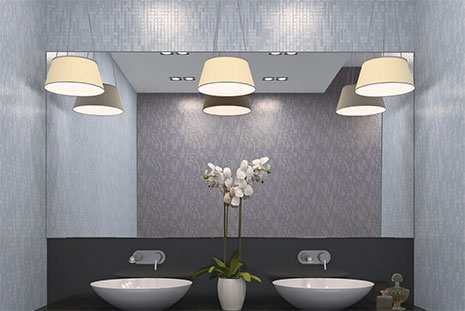 Vanity Mirrors
Get the spa-like bathroom you deserve with Dulles Glass. We offer customization that others typically don't - from the type of glass to the beveled edges and hardware finishes.
Because your bathroom is unique to you, the size and shape customization we offer is the best in the industry, offering you the most choice in your custom bathroom vanity.
Testimonials
"We are pleased with the quality and the price we received for the low-iron shower glass and beveled glass mirrors fabricated and installed by your company. I enjoyed having a tour of your fabrication facility and showroom while I was in the process of searching for a provider. Mr. Emre Tunc was an informative host, and he answered all of my questions. Your online interactive proposal was very helpful to us in our decision making, and your staff was most helpful with suggestions to solve the unique challenges of our shower design. We have been using your products for several weeks, and we could not be happier. We will recommend you to friends looking for shower glass or mirrors for their home. BTW the look of the low-iron shower glass especially impressed our remodeling contractor! In retrospect, going with frameless beveled glass mirrors was much better than if we had gone with a framed approach."
Gary B., Annandale, VA
"I bid the project out to three different companies and Dulles Glass and Mirror offered a fair price with quick turnaround. Their installers came to my home to measure my shower glass enclosure and were very professional. Once they returned, the glass was installed perfectly. It's been 8 months and everything is still perfect."
Diane & Dave, Houzz Review
"I am extremely happy with the shower door and the professionalism of your staff. I will be contacting you in the future for any glass needs."
Gina G., Manassas, VA
Our new frameless clear glass shower door is positively gorgeous. It brings a whole new modern look to our bathroom. The installation was on time and was flawless. The installers were professional and totally cleaned up after they were done. They left us with a beautiful installation. No complaints whatsoever. Start to finish, it was terrific.
Tony F., Rockville, MD
[Dulles Glass] did a great job. Their staff was prompt, organized and very professional. They did a great job installing a frameless shower door and I would highly recommend them to anyone looking to have similar work done.
Chuck Clapton, Alexandria, VA
I chose Dulles Glass & Mirror, soley based on the reviews on yelp.com, for my custom frameless glass shower enclosure. Their communication was excellent from the start, and I got a free online estimate within 24 hrs. The price was better than other glass companies closer to my home. I put down a deposit months early so as to lock in a promotion they had at the time. Sam, my salesperson, kept in contact with me over the gap in time that I was building my addition and answered all of my questions. I threw a billion questions at him over multiple emails, and he answered each one with patience and courtesy - never making me feel like I was a burden. When it was time to have them come out and measure, the worker (I forget his name) was very knowledgeable, and took very careful measurements. They were even able to determine that my walls were 1/8 inch out of plumb, and ordered the glass to accomodate for the discrepancy. What impressed me most is that my final shower wound up being slightly bigger than my original design - Dulles Glass still honored my original estimate price even when they could have charged me more. Today was installation day, and the workers arrived on-time, not just with everything necessary to do the install, but with drop cloths and other padding to protect my bathroom and not make a mess while they were working. They did not seem a bit rushed, which made me feel like they cared enough to do the job right. The install looks incredible, and the workers explained how to care for the glass before leaving. I worked with a lot of various companies and contractors during this 6 month home addition and renovation endeavor. I can easily say that out of all of them, Dulles Glass was the only one who gave me not ONE problem, from first contact through job completion. I felt compelled to honor their work with a fitting review on here. I could not recommend them more. They are professionals who know how to take care of their customers and ensure a job well-done.
Nick L., Falls Church, VA