Interior Sliding Doors
Interior sliding doors are becoming a popular design trend that transforms spaces from dull and boring to warm and inviting - and the trend just got better! We have two great styles of interior sliding doors: The Laguna, which is similar to the popular "barn doors" you see in decorating magazines, and the Klein model, which can be used in a variety of spaces. Use either of these as a space divider or door between rooms that still lets in lots of natural light. It's the "wall that isn't a wall" and we're ready to help you get the look!
Sliding Interior Door Features:
Thick, tempered glass with an insulating feature feels substantial
Durable and sturdy construction – stainless steel rods and guides
Custom made to your specs – size, type of glass, hardware – all your choice
Easy maintenance – just wipe it off and it's like new
Easy installation – headache-free installation by our glass experts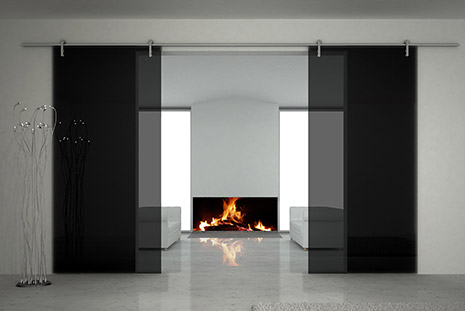 Laguna Interior Sliding Glass Doors
Made with thick tempered glass, Laguna doors glide on a rod with wheels to guide it. The minimalist design is a look that fits almost any décor, with a homey yet modern appeal. Use the Laguna to separate the kitchen from the dining room, or your bedroom from the master bath. Laguna doors allow for both light, privacy – and add value to your home.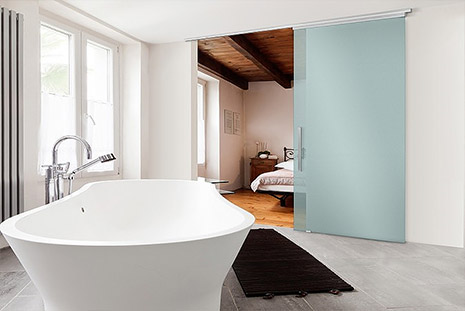 Klein Sliding Glass Doors
Klein doors are one of our most versatile offerings. Heavy glass panels glide below a rectangular rod that hides the hardware. Klein doors come with a variety of features that fit any need:
A "telescoping" version for opening multiple doors at the same time
Sliding glass doors on a corner installation
Self-closing, hold open, and anti-slam features
GET A QUOTE
Installation Services
This is a hassle-free improvement to your home. Dulles Glass provides the initial measurements, quote, and clean, efficient installation in the professional manner you've come to expect from Dulles Glass.
Interior Sliding Glass Doors Photo Gallery