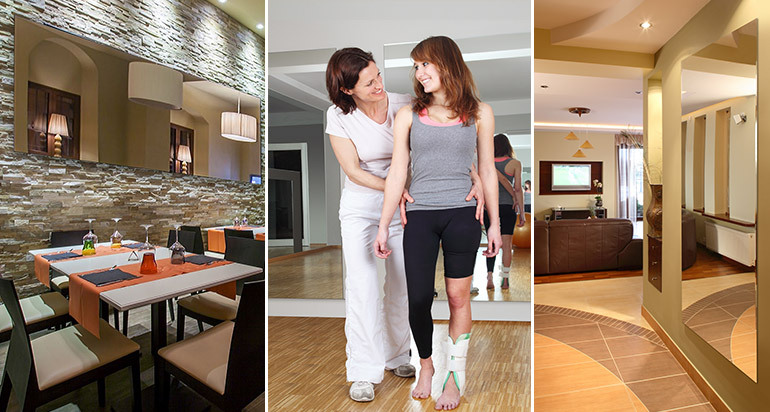 Introducing MiraSafeTM Safety Mirrors Only From Dulles Glass
New ultra-clear MiraSafeTM Safety Mirrors are designed for active environments:
Safe - stays together on impact
Ultra-clear - low-iron content means no distortion or greenish tint
Easy to Install - clips, J-Bars and glue is all you need
It's easy to spec a MiraSafe Mirror in your next job.
High Performance with a Focus on Safety
MiraSafe Mirrors were designed by Dulles Glass experts to enhance the safety of mirrors in active spaces.
Our proprietary layering processes result in a strong, stable product. MiraSafe has the excellent reflective properties of true low-iron glass mirrors, with the safety glass feature of retaining shards, if broken, in the same manner as automobile safety glass.
Protect your active spaces from the risk of injury from broken glass shards. Ask for MiraSafe.
MiraSafe™ Gym Mirrors vs. Standard Gym Mirrors

| | MiraSafe™ Safety Mirrors | Standard Gym Mirrors |
| --- | --- | --- |
| Safety | Impact-resistant and shatterproof | Breakable - requires safety backing |
| Clarity | Ultra clear mirror | Clear glass mirror |
| Available Sizes | 48" x 72", 36" x 72", 36" x 60" | Custom |
| Thickness | 1/4" | 1/8", 3/16" and 1/4" |
| Composition | Lead-free, Low-iron glass | Copper-free glass |
| Maximum Sheet Size | Stock sizes | 78" x 144" |
| Edge Finishes | Flat Polish | Seamed, Pencil, Flat or Beveled Polish |
| Performance | 7 ANSI standards | N/A |
| Price | $$$ | $$ |
Use Areas
Use MiraSafe Safety Mirrors anywhere safety is of importance, in areas like:
Schools
Hospitals
Rehabilitation Centers
Fitness Areas (Gyms/Studios)
Childcare/Daycare
Senior Centers
Hospitality
Putting MiraSafe Safety Mirrors in your project is easy. Get a quote with the information you know about your mirror project, and someone will contact you with a preliminary quote for free, in 24 hours or less. We'll help you get it just right for your business and your customers.
If you would like to purchase MiraSafe Mirrors online, please visit us at Dulles Glass & Mirror.