---
When it comes to interior decor, nothing exudes timeless elegance quite like an oval glass table tops. These graceful additions can elevate the aesthetic appeal of any room, creating an atmosphere of sophistication and refinement. In this comprehensive guide, we will delve into the art of achieving a timeless and elegant look with oval glass tables. tops. Whether you are a homeowner, a DIY enthusiast, or an interior designer, this guide is tailored to help you create stunning spaces that stand the test of time.
1. Embrace the Allure of Oval Shape:
The unique oval shape of these glass table tops adds a touch of distinction to any space, be it a dining room, kitchen, or living area. Unlike traditional rectangular or square tops, the oval-shaped glass softens the room's edges, creating a sense of fluidity and elegance. Embrace the versatility of the oval shape and explore ways to incorporate it into your dining room table, kitchen dining, cocktail table, or other modern dining table pieces.
2. Explore Custom Options:
Discover a wide range of pre-made oval glass table tops in various sizes, perfect for fitting into your dining room furniture arrangement. For a more personalized touch, consider custom options, allowing you to tailor the table top to your specific needs. Choose the perfect size, thickness, and edge style to harmonize with your design vision for a stylish oval dining table.
3. Timeless Sophistication in Dining Areas:
Oval glass table tops are a natural fit for dining areas and kitchen tables, adding an element of timeless sophistication to your dining room furniture. Pair it with a sturdy base, such as a pedestal or wooden legs, to create a striking centerpiece that captures attention while encouraging conversation and connection during meals.
4. Elevate Your Cocktail Table's Style:
Transform your cocktail table into a statement piece with an oval glass top. Enhance the elegance with metallic or chrome bases, creating a refined and modern aesthetic. The transparency of the glass also allows your carefully chosen area rug or flooring to shine through, accentuating the overall allure.
5. Balancing Minimalism and Opulence:
Oval glass table tops effortlessly bridge the gap between minimalism and opulence. In minimalist settings, the simplicity of the glass complements clean lines and uncluttered spaces. On the other hand, in luxurious interiors, the glass exudes an air of sophistication, complementing intricate furnishings and luxurious decor.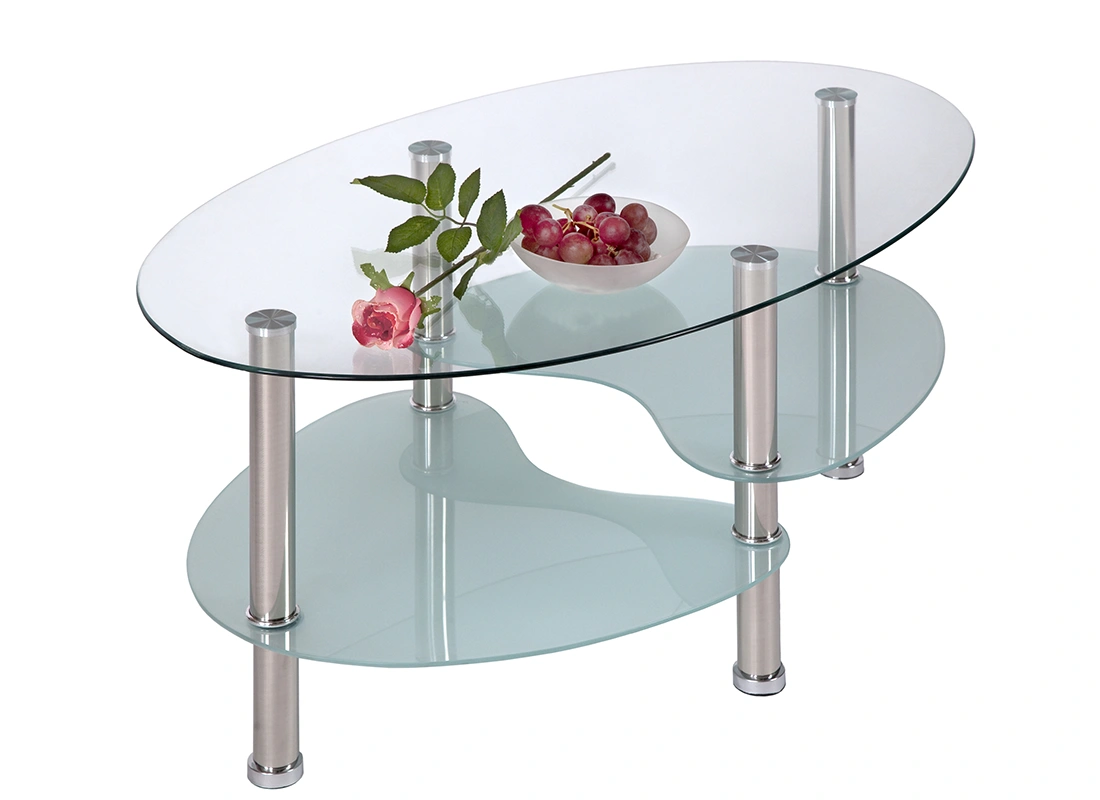 6. Creating Illusions of Space:
Maximize the perceived space in smaller rooms with oval glass table tops for your modern dining table. The rounded edges create a flow that visually expands the room, making it feel more open and inviting. This illusion of space is ideal for compact living rooms or cozy dining areas, transforming your space into a welcoming haven.
Oval glass table tops are the epitome of timeless elegance, bringing sophistication and grace to any interior space. By embracing the allure of the oval shape, exploring pre-made and custom options, and harmonizing them with your unique design vision for a modern dining table, you can achieve a look that transcends trends and stands the test of time. Whether you are a homeowner seeking to elevate your living space or an interior designer aiming to create captivating rooms, the versatility and charm of oval glass will not disappoint in creating your ideal oval dining table.