---
Are you looking to add a touch of modern sophistication and versatility to your home decor? Hexagon glass table tops are the perfect solution! In this comprehensive guide, we'll explore design inspirations and innovative ways to incorporate these beautiful table tops into various room layouts. Whether you're a homeowner, DIY enthusiast, or interior designer, get ready to elevate your spaces with these elegant and stylish ideas.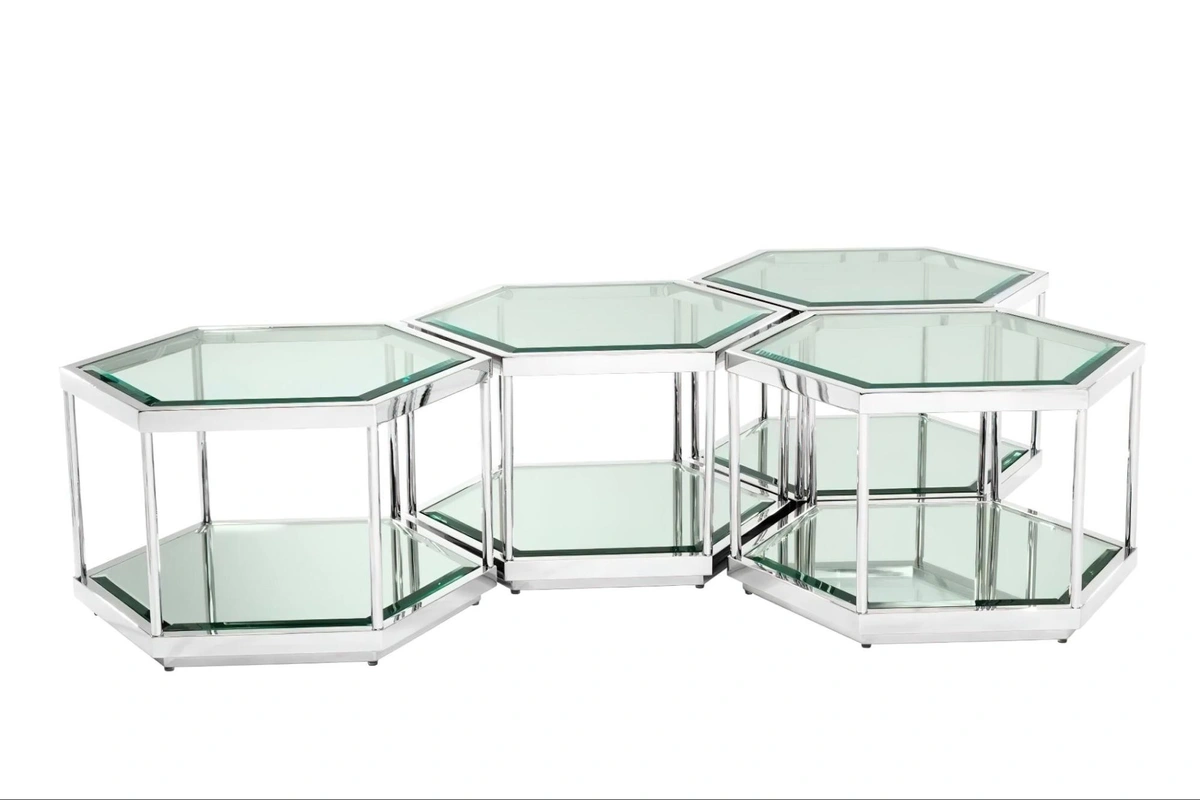 1. The Living Room:
Elevate your living room's elegance with a nesting table, nestled amidst plush sofas and chairs. The glass's transparency amplifies space, while the option of a solid wood base adds natural warmth. Accessorize the accent piece with captivating centerpieces, creating an airy oasis in even the coziest corners.
2. Dining Delight:
Indulge in sophisticated dining by embracing a glass dining table. The unique shape fosters intimacy while offering a contemporary twist. Complement with modern or classic chairs and hexagonal-patterned tableware, harmonizing the setting with a captivating visual rhythm.
3. Home Office Brilliance:
Infuse your workspace with modern flair using a glass desk atop a sturdy pedestal base. This solid wood-supported masterpiece energizes your surroundings, enhancing productivity. Incorporate hexagonal storage units for both organization and aesthetic continuity.
4. Bedroom Bliss:
Craft a luxurious bedroom sanctuary by introducing a side table or nightstand. The glass exudes sophistication, with the option of a solid wood base for added grounding. Complete the look with hexagonal picture frames and mirrors, creating a serene and harmonious haven.
5. Creative Corners:
Fuel your creativity with hexagon glass tops, offering a canvas for DIY brilliance. Craft a personalized glass display case, showcasing cherished collectibles. Alternatively, experiment with hexagonal glass tiles to construct captivating wall art or an enchanting mosaic – an inventive statement of your artistic spirit.
6. Outdoor Oasis:
Extend your living space outdoors with glass patio tables. Modern and inviting, they embrace alfresco dining while reflecting the natural surroundings. With weather-resistant chairs and vibrant cushions, you'll curate an outdoor haven that effortlessly blends style and comfort.
7. Foyer Finesse:
Make a captivating entrance with a glass entryway table, adorned with fresh flowers or decorative accents. Elevate the foyer's depth and light by pairing it with a hexagon-shaped mirror above, creating an impactful and inviting focal point.
From the living room to the outdoors, hexagon glass offers endless design opportunities to elevate your home's aesthetics. Whether you're a homeowner seeking elegance, a DIYer embracing creativity, or an interior designer looking for innovation, these ideas will inspire you to integrate hexagon glass into various room layouts. Embrace the contemporary allure of these versatile pieces and witness the transformative power of hexagonal glass in shaping your home's beauty and functionality.