---
Dulles Glass provides custom cut frameless shower doors for Art Deco bathrooms that can fit many bathroom dimensions as well as angled or sloped ceilings. Vintage or Art Deco bathrooms provide a beautiful aesthetic that will never go out of style. Although visually appealing, there are certain practical constraints of updating a vintage style bathroom. If updating or making additions to a vintage bathroom, you may struggle to find ready to install fixtures and glass shower panels that match the vintage aesthetic. This issue is conveniently solved through the availability of custom-made glass, such as frameless shower doors, sliding shower doors and bathtub screens from Dulles Glass. Below is a review of practical considerations and aesthetic options for a custom glass project with Dulles Glass.
Frameless Shower Door For an Art Deco Bathroom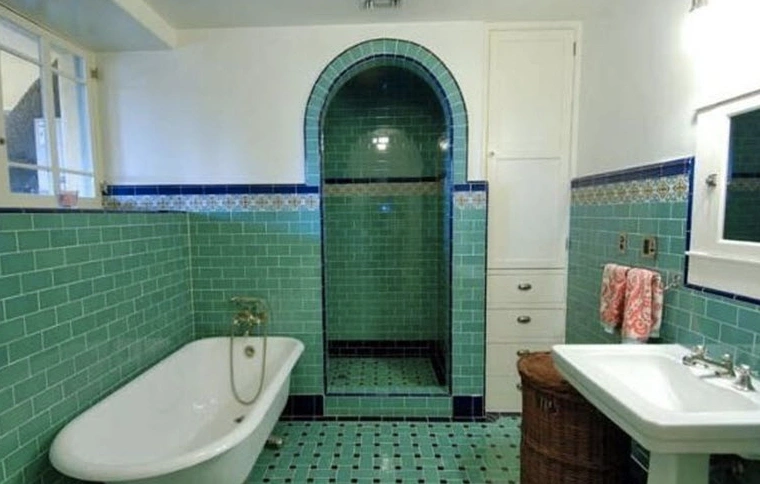 An Art Deco Bathroom With An Arched Ceiling and Single Glass Shower Door
Custom Frameless Glass Shower Door For an Art Deco Bathroom
Vintage bathrooms may have different dimensions than a modern bathroom in terms of door size, ceiling height, and layout. In particular, you may find that entrances to vintage showers are far narrower than that of modern showers. The non-standard sizes may frustrate customers who want to upgrade their vintage bathrooms. Dulles Glass can custom cut a glass panel for your shower door. Our shower glass panels can fit high knee walls as the photo illustrates below or arched ceilings such as the photo above.
An Art Deco Frameless Shower Enclosure With High Knee Walls & Angled Ceiling Corners Fitted With Glass Panels
Custom Shower Glass Panels For Art Deco Bathrooms
A frameless shower enclosure will accentuate the beautiful tile work and add a touch of modernity to your bathroom while maintaining its vintage appeal. Glass panels can be cut to fit many styles of bathrooms without having to do a full remodel of walls and bathroom space.
Update a vintage bathroom with frameless shower glass panels.
For some vintage bathtubs, excluding clawfoot tubs, Dulles Glass can install a bathtub screen or sliding shower doors. The bathtub half glass panels are perfect for small bathrooms and the doors pivot outward. Typically, half glass panels are installed on the side where your shower faucets reside. If your bathtub does not have enough room for a swinging door, you can also opt for a sliding tub door.
Frameless Shower Door Parts | Art Deco Bathroom
You can match your shower door parts to your bathroom's fixtures. We offer modern, classic and vintage style shower door parts for a complete look. Dulles Glass offers the following shower door hardware finishes:
Brass
Brushed Nickel
Oil Rubbed Bronze
Chrome
Once you've chosen a hardware finish, you can select a shower glass door handle and hinges that come in a variety of styles. While the options may be overwhelming to consider, a glass specialist can visit your home to help with measurements, shower door styles, and layouts so that you find the best shower door for your bathroom. Dulles Glass offers free in-home estimates for customers who are considering a bathroom upgrade. The shower door purchase includes measurements, installation, and a three-year warranty. Dulles Glass installs shower doors in Northern Virginia, Maryland, and Washington DC.