---
Closet Door Makeover | How To Remodel an Old Closet

Don't throw your closet door away! This DIY Closet door makeover takes only an hour with custom cut acrylic mirrors. You can easily modernize an outdated closet door with acrylic mirror glass. The project typically takes an hour to complete and you will love the look of your "new" closet while saving the environment by refurbishing an old closet instead of throwing it away.

If you want to create your own DIY closet shelf system, visit Dulles Glass & Mirror, where you can customize the size, shape and style of glass shelves. For narrow closets, we also have corner shelves. Our custom glass shelves can be sized to fit all closet dimensions. You can choose to glue the mirror directly to the close door with nano glue, a construction glue that is heavy-duty.

For hanging full-length wall mirrors, you may need extra support system such as a J-channel (also known as a j-bar).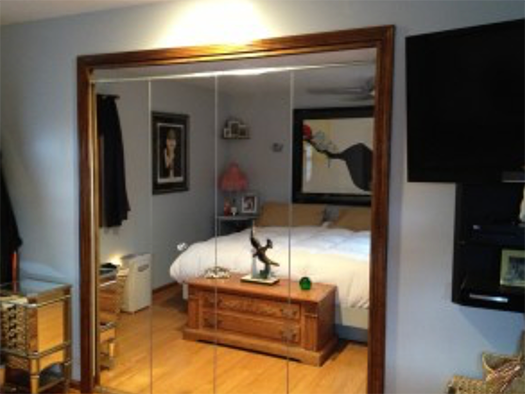 Customer Submission - Peggy From Ohio (Acrylic Mirror Closets)

Take it away, Peggy:
Closet Door Makeover | Glassless Mirrors: Very pleased with product!
Review: [...] It arrived in perfect condition and I installed it. I love how it finished the project I was working on. I would highly recommend your company to my friends for projects such as mine. In fact, if you're on Angie's List, I'll leave a glowing review. Thanks for a terrific product and even better service. I posted a picture over the weekend of the finished closet project. It looks terrific.

Thank you Peggy! Just a tip for customers out there, when using acrylic glassless mirrors, do not opt for mirror mastic from your local Home Depot. Some kinds of mirror mastic can damage the backing of mirrors, so it's always recommended to get the top-of-the-line mirror mastic to be safe.