---
Custom Mirrors
Custom-cut mirror designs are a way to show your unique personal taste and with the help of Dulles Glass, you can have a mirror made specifically for you. Let's go over a few mirror ideas Are you tired of boring mass-produced mirrors? Well, you have come to the right place. At Dulles Glass, you can have mirrors custom-made to your specifications. We also help with measurements and installation so you can sit back and relax. This guide will go over mirror styles and trends so that you have a better idea of how to customize your mirror and how Dulles Glass can help you with your project.
Narrow Rectangle Bathroom Vanity Mirror
This bathroom wall mirror is ideal for a couple's vanities or public restrooms that have multiple sinks on the same wall. Customize your rectangle mirror to be longer or shorter than the photo above.
Decorate Wainscot With A Custom Fitting Mirror
Dulles Glass has custom-sized mirrors with four different shapes to fit your wainscot panel. Add color with our tinted mirrors in gray, bronze, or frosted (white), or keep it traditional with beveled edges. The mirrors can be custom-cut to fit certain sizes of wall paneling. Plus, a Dulles Glass technician can custom cut holes for outlets, light switches, and more.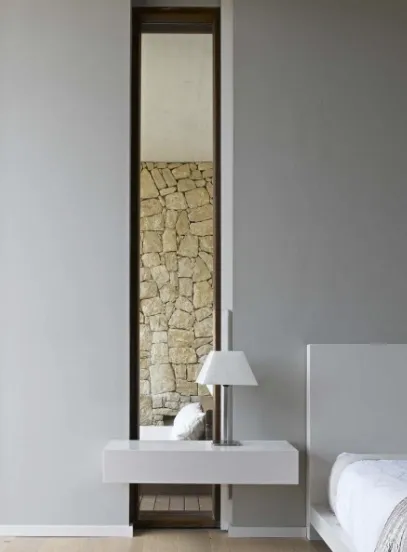 Custom Size Vertical Mirror Strips
Do you have a wall niche that takes up space and doesn't provide any functionality? Turn it into a wall mirror with custom-sized mirrors made to fit most lengths and widths. It's easy to customize online- just have your measurements ready.
Custom Cut Multiple Sized Mirrors
Combine a main frameless vanity mirror with two smaller border mirrors and the end result is a gorgeous vanity. The photo above has one large square mirror surrounded by two narrow rectangle mirrors. You can mix and match mirror styles such as adding beveled edges as well as tinted mirrors for a personal touch.
Add Mirrors To Cupboards And Cabinets
Want to light up a room? Mirrors will reflect light and make a small room appear larger. You can order custom-cut mirrors to fit many cabinet sizes and did we mention that it's a quick way to update dreary old cabinet doors? You will need to use a special type of glass glue so that your mirror will safely adhere to your cabinet.
Custom Cut Closet Mirror Strips
If you don't like the look of an all-glass closet, decorative mirror strips may be the perfect choice for you. You can choose the length and width of your mirror strips and combine a few or many strips for a personal look. Ideally, these mirror strips will need to adhere to a flat surface. Dulles Glass custom builds and installs closet or bedroom mirrors. We can make and install a full custom wall or partial wall closet mirror. Simply send us your design ideas and we'll give you a quote. Get a free bedroom closet mirror quote.
Mirrored Glass Backsplash
Make your kitchen or bathroom chic with a custom-cut mirrored backsplash. Dulles Glass offers different tints for your glass backsplash. The bronze-tinted mirrored glass will add a modern look to an earthy kitchen. For a more industrial look, try a gray-tinted mirrored glass.
Custom Cut Fireplace Mirrors
Dulles Glass can install full-wall mirrors for fireplaces, add mirror trimming, or replace a broken fireplace mirror. Your options are limited to your imagination- you select the size, edging, shape, and tint for a personalized fireplace mirror. Our mirrors are lead and copper-free, which prevents reflection distortion. Get a free fireplace mirror quote.
Dulles Glass Custom Cut Mirrors & Installation| Northern Virginia, Washington DC & Maryland
Do you have an architectural or design project involving mirrors or glass? Dulles Glass can help with custom glass products as well as delivery and installation. Don't worry about vents, fixtures, or outlets preventing you from having a gorgeous wall mirror- we can make cutouts for those fixtures.
Just send us your project idea and we can provide a quote. After submitting your project idea, a technician will visit your home or business take measurements, and go over customizations with you. We offer glass and mirror installations for business and residential projects.