Linear™ sliding glass shower doors that are framed around the outside edges by a high-quality stainless steel frame that is available in a variety of finishes. Unlike contractor-grade shower doors, Dulles Glass shower doors are made from thick, high-quality glass and luxurious hardware.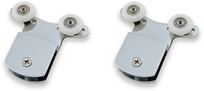 Stainless Steel Hangers
The Linear™ shower comes with a very durable track system. The wheels on a thin rod use the least possible metal in a sliding shower door. One small metal guide is needed at the bottom.
Sturdy Top Bar
Header bar made of heavy gauge aluminum and holds the entire weight of the glass doors, typically 160-180 lbs. total.

Sloped Bottom Track
Bottom track is designed with a 1/4" slope so that water runs down and towards your shower drain and doesn't pool at the bottom. Without the slope, water collects on the bottom track, and ultimately, mold forms.