---
Large Wall Mirrors For Yoga Studios and Home Gyms


A large wall mirror can enhance your workout. Yoga studios are one of the hottest areas of contemporary interior design and you've decided to build one. Yoga only requires a quiet, inviting space. What are the advantages of large mirrors for your home yoga studio?? Mirrors allow you to critique posture and form from multiple angles. What sort of mirrors should you put in? Dulles Glass & Mirror has a huge selection of mirrors suitable for both private and commercial yoga studios.

In that case, you should consider MiraSafe gym mirrors. These mirrors are low-iron, and offer a cleaner reflection with less distortion than ordinary mirror glass; they are difficult to shatter, so if struck they won't break into tiny, sharp pieces; and they're easy to install. You might even want to put mirrors on the ceiling. If you also want to place large wall mirrors on the ceiling of your new studio, keep in mind that ordinary mirrors are risky because of their weight. Dulles Glass and Mirror offers glassless acrylic mirrors, which are light enough and strong enough for your ceiling. They are ten times more break resistant than ordinary mirror glass and are highly reflective, producing a very clear image.
Turn Your Oversized Wall Mirror Into a Moveable Mirror

For added functionality, glue your gym mirror with high-strength mirror mastic construction glue to a rolling wall partition or sliding barnyard door. For a home yoga studio, if you don't have an entire room available, you might consider using partition screens to transform a portion of a room into your own private yoga space. You can put large wall mirrors on the inside of each partition, so each time you close them you create a self-contained space that excludes the rest of the room. One could also use partitions to create multiple spaces in a commercial yoga studio.You now have a moveable gym mirror.
Custom Frameless Large Wall Mirrors

You will need to consider some functional elements as well. Functional considerations will include: how many mirrors do you need for each wall? What shapes will fit best with the dimensions and shape of your yoga studio's walls? If building a commercial yoga studio, should you put in a reception area? What sort of flooring should you choose? Hardwood, cork, or bamboo will probably feel best for most people. Lighting is also crucial. At home, natural lighting could be great, but in a commercial yoga studio, artificial lighting will likely be a must. Opt for soft light when using artificial light.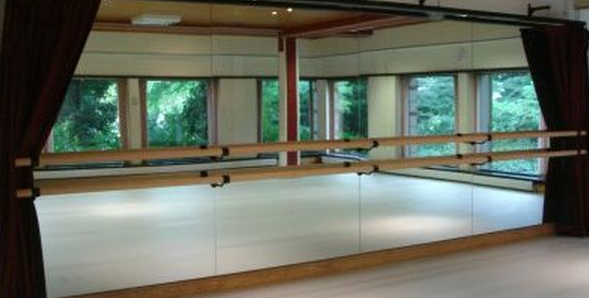 Image Source: https://s-media-cache-ak0.pinimg.com/736x/67/47/22/674722e39c6986af1792536007259cde.jpg

Aesthetic considerations are by their nature difficult to pin down. Simply put they refer to the question: what do you think will look best? You should think deeply on both the functional and aesthetic aspects because you want your new yoga studio to be a sanctuary for years to come. You will also want to carefully consider the color of the walls, unless you decide to use floor-to-wall mirrors. One way to enhance your home or commercial yoga studio is to position large wall mirrors perpendicular to a large window to reflect the backdrops of nature. According to Feng Shui practitioners, reflecting views of nature amplify chi energy, which in turn enhances life's opportunities.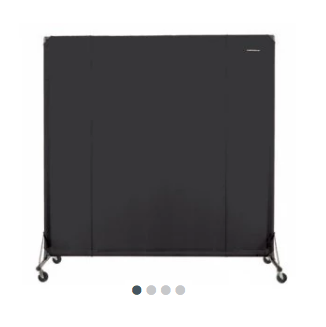 Image Source: http://www.hayneedle.com/product/vp6mobileroomdivider.cfm?ltype=child&tid=VSI002-4

Other ideas are to put a fountain in a corner of your yoga studio to enhance relaxation inside your studio, as well as using warm palette colors. The sky's the limit when creating a yoga studio with large wall mirrors because there are bound to be many different satisfying arrangements. Customize your large wall mirror today and have fun!